Fluffy Cheese and Tomato Scrambled Eggs
Parsley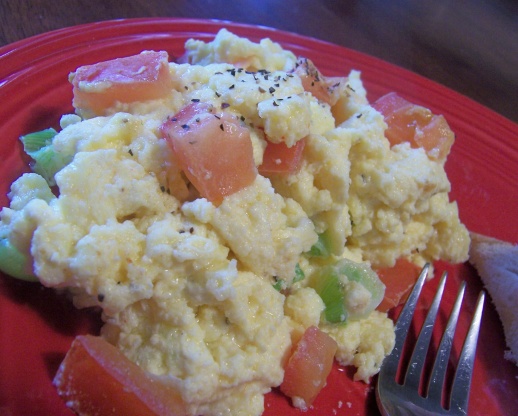 Even if you don't like ricotta, you won't even know it's in these eggs.

A slight variation on this recipe I've made and found much easier than cutting and chopping is just get a jar of chunky salsa and add a tablespoon or two to the eggs and mix. It's very good and less messy and time consuming. Salsa also comes in mild, medium and hot/spicey so that will add variety to your flavor!!
Heat a large nonstick skillet sprayed with nonstick cooking spray.
In a mixing bowl, beat together eggs (or substitute) and ricotta cheese until smooth.
Add remaining ingredients and mix well.
Pour into skillet and cook/scramble until done.