3 Reviews
YUM!! very good biscuits, they turned out very flakey and melt in your mouth. I used grated frozen butter which help to make them fluffy and grated old cheddar. Served them with our ribs and salad for Labour Day. A lovely match, thanks for posting, I wil be making them again.

Everyone loved them! The only change I made was sprinkling garlic powder over the tops. Yum! :)
I made these in conjunction with CP's vegetable stew. I'm definitely NOT an experienced or frequent baker myself, but I was very pleased with how these biscuits came out - very light and cheddary. I've always had a penchant for buttermilk biscuits and these turned out just the way I like them. I made no changes at all to this recipe. Flour/buttermilk proportions seemed perfect.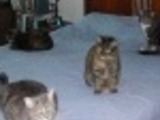 Fluffy Cheddar Biscuits