Derf2440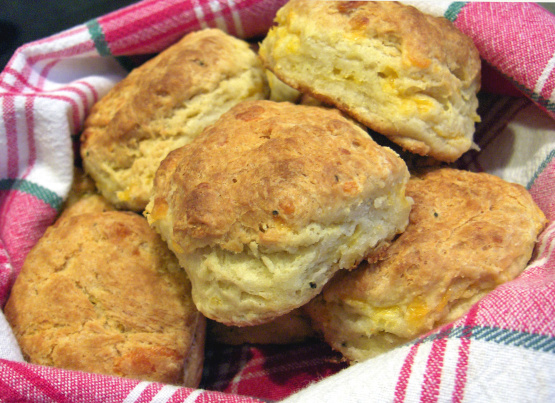 Fluffy biscuits from Food Everyday issue 9. Try using this as a topping for Winter Veggies Under a Fluffy Cheddar Blanket.

YUM!! very good biscuits, they turned out very flakey and melt in your mouth. I used grated frozen butter which help to make them fluffy and grated old cheddar. Served them with our ribs and salad for Labour Day. A lovely match, thanks for posting, I wil be making them again.
Preheat your oven to 425 degrees.
Sift together flour, baking powder, baking soda, salt and pepper.
Cut in butter a piece at a time until mixture looks like large crumbs.
Add buttermilk and cheese. Mix until combined, flouring your hands as needed, until it sticks together. If it is too sticky, add in some more flour, a little at a time.
Do not over mix.
Lightly flour a large work surface. Turn out the dough and flatten it to 1 in thickness.
Cut out rounds with a floured 2 inch round cutter. Keep spacing as close together as possible. Put the rounds on a baking sheet.
Collect any scraps, and, mixing as little as possible, flatten out to 1 in thickness again. Cut out any additional rounds you can.
Do not over mix.
Brush tops of biscuits with melted butter.
Bake until they look golden brown,. Bake for 18 to 20 minutes. Rotate the sheet after about 10 minutes.