Um Safia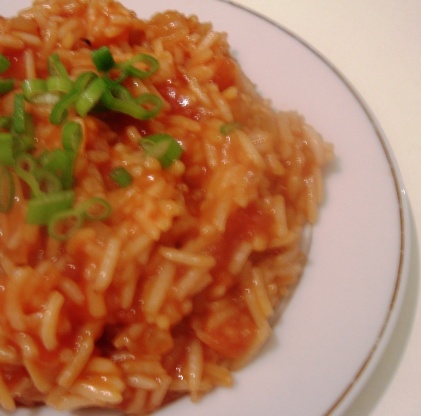 Here's a simple and tasty version of one of the staples in Mexican cooking. You may use water if you don't have any chicken broth, but please make the effort to use the broth. You may also add some chopped tomato and a sprig or so of cilantro sprinkled on top of the finished rice.

Made & reviewed for my PAC baby! We all enjoy rice in our house - rice in any form is always popular & this was no exception! It is simple to make & is delicious too. I used homemade broth & an extra clove of garlic - delicious! Thanks again Di for another scrumptious recipe ;)
Heat a deep pan over medium heat, then add the oil.
Slowly cook the garlic, onions and rice until the rice begins to brown. Add the tomato, if using.
Add the taco seasoning and cayenne, if using.
Mix together the broth, tomato sauce water.Pour liquids into the hot pan very slowly with the rice, being careful of the steam. Stir to combine.
Reduce heat to low and bring liquids to a simmer. Cover pan,let simmer for about 20 minutes.
Remove from heat and let it sit, covered for 10 more minutes. Sprinkle with chopped cilantro.