gailanng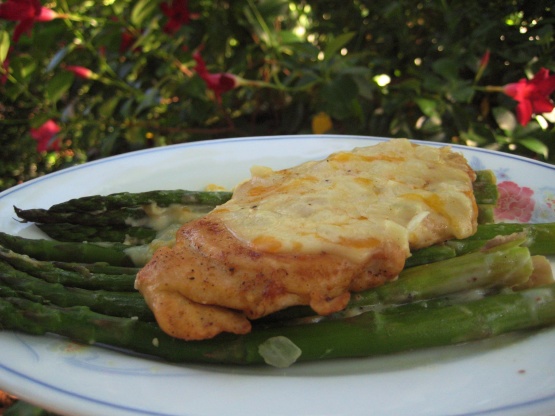 I found this recipe in a neat old recipe box that I bought at an estate auction down at the shore. We really like this one. I hope your family likes it, too. The original was printed on an old Fluffo brand shortening flyer/recipe card so of course it calls for Fluffo but I do substitute butter usually- we think it tastes a litlle better. You decide for yourself- butter or shortening?

Quick,filling,and the ingredients is availble in your cabinet. DELICIOUS!! I used marsala wine because I didnt have any white, still fabulous!!
Preheat oven to 350.
Brown the chicken in 3 tablespoons of shortening in a skillet over med-high heat. Add water, cover, lower heat and slow cook until tender about 20 minutes.
Steam asparagus until just barely tender.
In a small saucepan, melt the remaining shortening, add chopped onion and saute about 2 minutes. Blend in flour, salt and pepper.
Stir in cream gradually, whipping constantly with a wire whisk to keep mixture smooth.
Add wine, bring to a boil and remove from heat.
Add about 2 tbsp of the cheese (I use a little extra) and stir until melted.
Arrange the asparagus in 4 portions in a baking dish, place one chicken breast on top of each portion and pour the sauce over all. Sprinkle with remaining cheese (I use extra).
Bake at 350 for about 15-20 minutes until bubbly and starting to brown slightly.