Ian Magary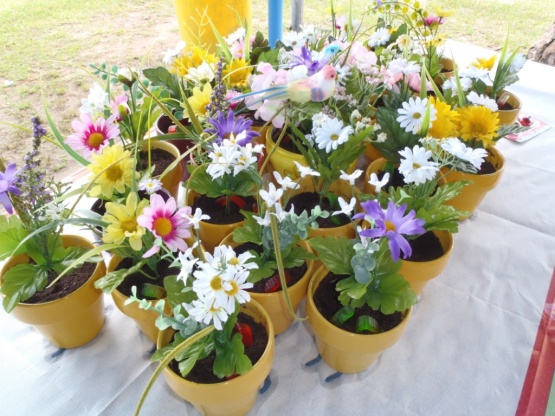 This is a light, creamy dessert that is lots of fun! Prep/time does not include the time it takes to bake the cake, since that may vary according to the pans you use. Do I need to tell you that you should buy a new flower pot just for this dessert? For fun, garnish with gummy worms and serve with a plastic spade. Note: RZ is refusing to understand "artificial flowers" in the ingredient list- and keeps changing it to edible fresh flowers... but you want fake ones!

I used this recipe for my daughter Lily's 6th Birthday party. It was a huge hit!!! I made individual cakes (photos to follow) in little, colorful, glazed flower pots that the kids could take home with them. We gave each guest various flower seeds and a small bag of potting soil in their goodie bags to plant later. But back to the cakes! I did a mixture of chocolate cake layers and brownie layers, and for the cool whip I used a "chocolate dipper" version I found at Publix. By adding the cream cheese, confectioners' sugar and butter mixture to the pudding, it gives it a tasty cake batter appeal that I received several compliments on. Each pot also contained at least one gummy worm inside, and one at the top, cut and fashioned to make it look as though it were emerging out of the earth. I didn't want any white flecks that Oreos would've given so for the cookie crumbs, so I used a long time favorite, Nabisco Famous Chocolate Wafers (9oz) boxes. It makes such a rich, tasty crust on any pie or cake! A bit of painters tape at the bottom sealed the holes nicely and wire snips helped trim down the flowers to the right size to poke into the pot. The Birthday Girl of course had an extra special pot with more decorations (and gummy worms) and I made a large Le Creuset Dutch-oven full of flower pot mixture for the adults to partake as well! I saw a picture of this recipe as I was browsing recipezaar and immediately knew I was going to make this for her birthday! Thank you very much for a wonderful idea and thanks to Chef #262397 #262397 for suggesting the fat-free / sugar free ideas… I fully used this on the parent version! I doubled the recipe and added the 2 boxes of brownies to make 30 flower pots and the Dutch oven full of flower pot cake.
For the Cake

1

(18 1/4 ounce) box dark chocolate cake mix
1 1⁄4 cups water
1⁄3 cup vegetable oil

3

eggs

For the Pudding

2

(4 ounce) boxes instant chocolate pudding mix

4

cups cold milk

Everthing Else

1

(14 ounce) package Oreo cookies

1

(8 ounce) package cream cheese, softened

4

tablespoons margarine
3⁄4 cup powdered sugar

1

(12 ounce) package Cool Whip

Non food items

1

plastic flower pot

1

bunch artificial fresh edible flower
gummy worms
Empty cake mix into a large bowl. Mix in water, oil and eggs. Bake according to package directions. You will have leftover cake -- I usually make mine into muffins and freeze what I dont use.
Empty pudding mix into another bowl. Add milk and beat, according to package directions. Let thicken in fridge.
Grind cookies in blender or food processor until you have very fine crumbs that resemble dirt.
In a bowl, beat cream cheese and maragrine together. Add powdered sugar and beat until smooth and creamy.
Fold cream cheese micture into thickened pudding.
Get your flower pot (mine is about 9" tall) and line the bottom with small square of aluminum foil if the pot has drainage holes.
Layer ingredients into the flower pot in the following order-.
Cookie crumbs first. Top with crumbled (or small cubes) chocolate cake. Then pudding mixture. Lastly, Cool Whip.
Repeat layering 3 to 4 times. Top off entire pot with 1" of cookie crumbs.
Chill until set.
Garnish with flowers. Add gummy worms if you wish. Serve with spade.