Flourless Deep Dark Chocolate Cookies
hperine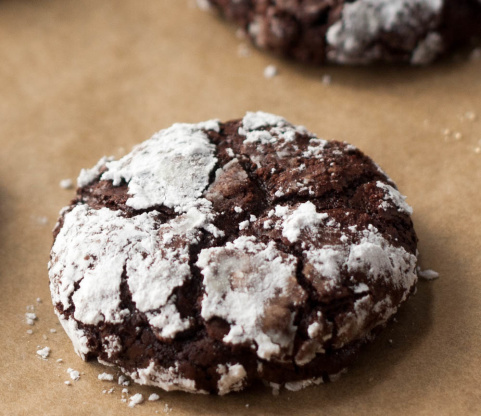 These dense and chewy cookies are made without butter or flour, and have an intense chocolate flavour. This recipe is from the Bon Appétit Test Kitchen (Bon Appétit Magazine, June 2008). Can also roll cookies in sugar prior to baking.

These are quite possibly the best cookies I've ever eaten. Simply amazing.
Preheat oven to 400°F Spray 2 large baking sheets with nonstick spray. Melt 1 cup chocolate chips in glass bowl in microwave, stirring twice, about 2 minutes. Cool slightly.
Using electric mixer, beat whites in large bowl to soft peaks. Gradually beat in 1 cup sugar. Continue beating until mixture resembles soft marshmallow creme.
Whisk 1 cup sugar, cocoa, cornstarch, and salt in medium bowl to blend. On low speed, beat dry ingredients into meringue. Stir in lukewarm chocolate and 1/2 cup chocolate chips (dough will become very stiff).
Roll 1 rounded tablespoon dough into ball (can coat in additional sugar if you want).
Place on prepared sheet. Repeat with remaining dough, spacing 2 inches apart. Bake until puffed and tops crack, about 8-10 minutes (don't overbake!). Cool on sheets on rack 10 minutes. Transfer to rack; cool.