Flourless Chocolate Oh-So-Good Molten Cake
Karen..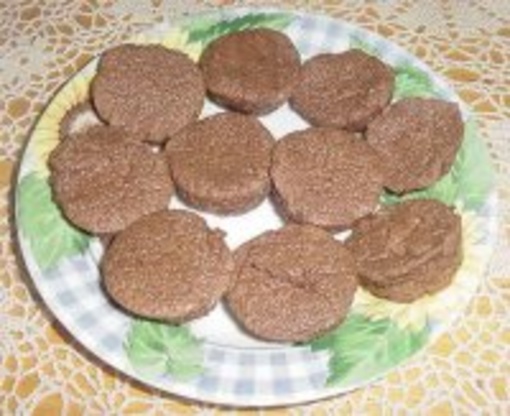 I am a terrible baker, but this dessert is one of the few dishes that I did NOT blow! It turned out so wonderful that we ended up eating the dessert first that night. This is a wonderful dessert for those gluten intolerent. And if I can make this cake, anybody can :P. *The recipe is right out of The Vancouver Province.

These are delicious! Rich but light, if you can believe that :) I used milk chocolate because semisweet bothers my stomach, but they were still awesome...I am sure the semisweet would have been a bit more decadent! I also used miniature muffin tins. They took 4 minutes in the oven and it made 27 minis. Thanks! The kids LOVE them! P.S. I am uploading a picture of what mine looked like until you post one of your own :)
Have all ingredients at room temperature before you start.
Preheat the oven to 400° F.
Prepare muffin tins-- butter them generously, then sprinkle with sugar, tapping the tins on the counter to distribute it evenly.
Using a double boiler or microwave, melt the chocolate and butter together, stirring to encourage it.
Remove from heat and sift in the cocoa, stirring with a fork or small whisk until smooth.
Beat egg whites with cream of tartar until soft peaks form.
Gradually add sugar, beating on high speed until stiff but not dry.
Use a rubber spatula to fold some of the whites into the chocolate mixture, just to lighten it.
Fold in remaining whites.
Spoon into prepared muffin tins.
(If you aren't baking them for immediate consumption, they may be refrigerated at this point.) Bake until the tops of the cakes are slightly cracked but the centre is still gooey.
This will take 7 to 8 minutes; count on an extra minute or so if the batter was refrigerated.
Remove from oven and let them sit for a few minutes-- the cakelets will shrink slightly from the sides and fall a little.
Place a cake rack over the pan and invert.
The cakes will fall out.
Serve them warm, with icing sugar sifted over the surface, a touch of whipped cream on the side if you like, and a couple of fresh raspberries or strawberries.