Flourless Chocolate Heart Cake
mliss29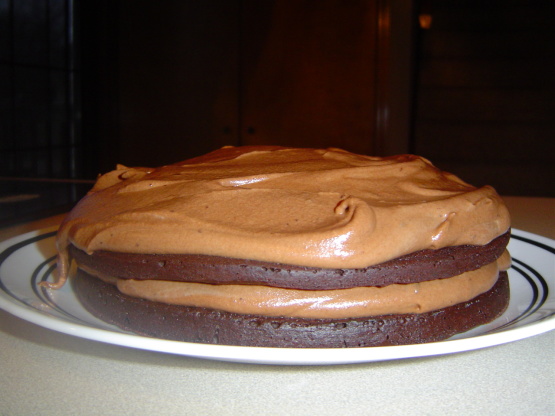 Perfect for Valentines Day, or just a romantic dinner with your sweetie! This recipe came from the Rockland County Magazine.

This is a dark chocolate dream! It was like fancy-restaurant dessert good. I was a little worried when the 2 cakes each came out only 1 centimeter tall, but then I went back to the recipe and saw "serves 4". Though I'd say more like "serves 8". Next time (and there will be a next time), I'll make 50% more cake and make 3 layers (I think there's plenty of mousse for 3 layers) and figure out how to make chocolate curls for the top. I think that would take this sophisticated cake and make it elegant. This cake was awesome and, except for the whipping cream, I made it with ingredients from Aldi!
Preheat oven to 375.
Butter two 8-inch heart shaped pans. Coat the pans with cocoa powder.
Separate the eggs into two bowls.
Add sugar to the bowl with the yolks and beat well.
Sift in the cocoa powder. Beat together. Add enough milk to get it smooth but not runny.
Beat egg whites with a pinch of salt until stiff.
Take a small quantity and stir into the chocolate mixture. Gently fold in the rest.
Pour into the prepared cake pans.
Bake 20-30 minutes. Let cool.
In a saucepan, boil 1/2 cup and 3 tablespoons of heavy cream.
Remove from the stove and add the chocolate. Stir well.
Whip in the rest of the cream into soft peaks then fold into the chocolate mixture.
Put the mousse between the two stacked flourless chocolate heart cakes and on the top.
Keep refrigerated.