Flourless Apple-Caramel Cake (5 - Hour Cook Time)
Prose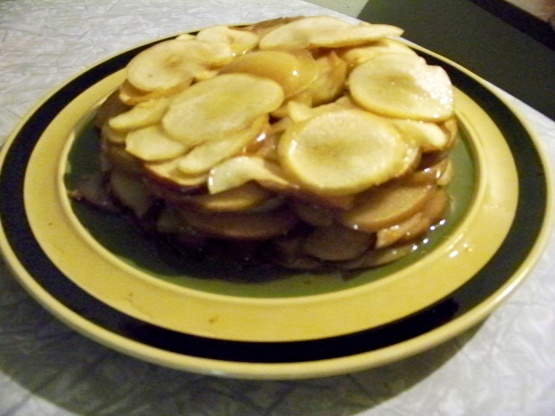 This apple-caramel cake is worth every minute of the 5 hour bake time. Don't try to shorten it, the Granny Smiths need all the time to work their magic! This recipe comes from Take home Chef (TLC). Thanks, Curtis!

Top Review by Prose
This cake was pretty good. It worked out well for my husband's birthday, since he is allergic to wheat. However, I am not sure I cooked it long enough because it did not hold together very well and was more liquidy than caramelly. I would recommend making this the day before, because I forgot to take the chill time into account, so we did not get to eat it on his birthday. I will probably try again some time, because it is a healthy alternative to a regular cake.
Slice all peeled and cored apples thinly. (Not PAPER thin, though.) Keep each apple's quantity separated for assembly.
In a heavy saucepan over medium heat, bring 1 cup of sugar and the water to a simmer, scraping the sides down to dissolve all sugar granules.
Simmer the syrup for 8 minutes, swirling the pan (don't stir!) and wiping down the sides to ensure even browning.
Pour caramel into a 2-quart ceramic soufflé pan (or the like), swirling the caramel around the bottom and up the sides of the dish.
Allow the caramel to cool, and harden, in the dish for 10 minutes.
Preheat oven to 250.
Arrange a layer of apples on the caramel in overlapping circles, using one apple's quantity.
Sprinkle this layer with 1 teaspoon of sugar and some orange zest.
Repeat apple, sugar/zest layering for all 10 layers. They will overflow the pan. This is okay . NOTE: Assembling each layer/circle in the opposite direction will make the cake more stable when slicing and plating.
Place the foil covered pan into a bano maria. (A roasting pan filled with water to halfway up the sides of the cake pan.).
Bake 5 hours. A skewer inserted should come out clean.
Allow the cake to cool completely, then refrigerate for 2 hours.
Loosen the cake from the pan by warming it in hot water before placing the serving plate over the top and inverting the cake.
Serve by cutting into 6-8 wedges and plating each with orange segments and whipped cream, if desired.