Flounder With Pink Grapefruit
duonyte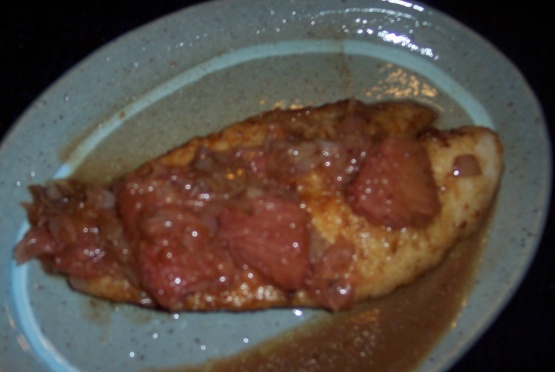 This is a little fussy to make but very unique and delicious!

This was so good, sorry photo doesn't really show the contrast between the golden fish and the pinkish sauce. My grapefruit segmentation skills leave much to be desired, and I ended up with half a grapefruit - it was a big fruit. It all worked together very very nicely. I made this with grey sole, which is reasonably priced around here.
Peel grapefruit, removing all white pith. Hold grapefruit over a bowl and with a small, sharp knife, separate grapefruit into segments, cutting them away from the membrane that separates them. Reserve two tablespoons of the juice in the bowl. Set the segments and juice aside.
Season the flour with salt and pepper (to taste) and spread it on a plate.
Dip fish fillets into the four, dusting off any excess.
Heat two tablespoons butter in a large non-stick skillet. Saute flounder about three minutes a side, until cooked through and lightly browned. If you cannot fit all the flounder into the pan at one time, do it in two shifts or use two pans.
Remove flounder from pan and put on a warm plate. Add remaining butter and the shallots to pan and saute a few minutes.
Add the grapefruit segments, juice and vinegar and bring to a simmer.
Season to taste with salt and pepper.
Spoon the sauce over the fish, sprinkle with cilantro and serve.