Flounder in Jalapeno Cream
PaulaG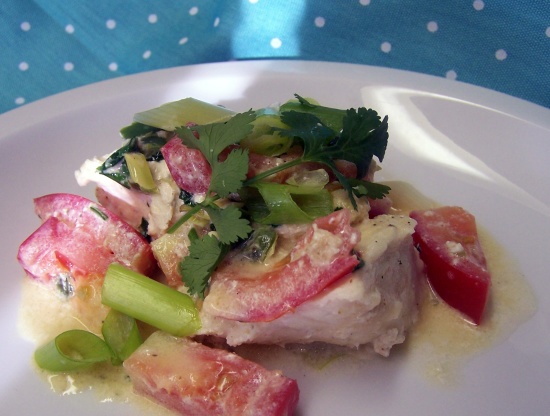 I grew up eating deep fried flounder- which was great - but when I came across this recipe my first thought was "Wow" not my mother's flounder. As flounder is not available in many parts of the US, this would also work very well with sole or mild flavored fish fillets. Recipe source: Gourmet (June 2005)

Oh my gosh, I cannot begin to tell you how wonderful this dish tasted! My husband went on and on about how good everything was and when I packed his lunch with the leftovers, he told me to make sure that I put all of the leftover sauce on his fish for today. He really enjoyed it and that is saying something because he usually cringes when I say that I'm making fish. I followed the recipe ingredients as written, except that I didn't add the jalapeno seeds because my kids were also eating this and I didn't want it to be too spicy. I went with the suggestion of another reviewer and broiled the fish instead of poaching it in the sauce. I also seasoned the adult's fish with Tony Chachere's Creole seasoning before broiling. I cannot believe I didn't catch my husband licking his plate with the way he talked about this dish! I will absolutely make this again and again. Thank you for posting!
In a large skillet over medium heat cook the scallions in the butter until softened (3-5 minutes). Add jalapeno, cream and 1/4 teaspoon salt and bring to a simmer.
Pat fish dry then sprinkle with pepper and remaining salt (1/4 teaspoon).
Fold each filet in half crosswise and place in sauce and cook at a simmer until fish is cooked through (5-10 minutes). Transfer fish to a platter and keep warm.
Add tomatoes and cilantro to sauce in skillet and cook over medium low heat until heated through (1 minute).
Spoon sauce over fish and serve.