Flounder Francaise or Chicken Francaise
gemini08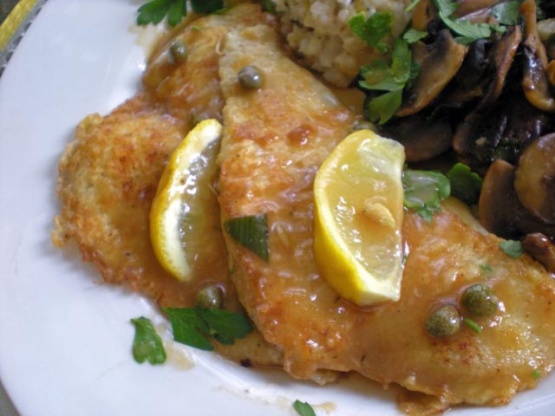 I love this tangy lemon flavored sauce. It's quick, tasty and light. I serve it on a bed of buttered spaghetti or rice for my family. I'm a diabetic so I serve mine over spaghetti squash or zucchini. It's just perfect either way. You can use this recipe for chicken as well, just substitute 2 large chicken breasts, cut in half to make 4 thin fillets.

I made this with flounder, it was absolutely fabulous! The fish had a beautiful, golden color, the sauce was delicious. For my taste, the amount of lemon was perfect, I also added a few capers to the sauce. This is an impressive, company worthy recipe! Thanks for posting!
In a large skillet, heat the oil and 1 tablespoons of butter over medium heat.
Place the flour and all the seasonings in a plastic bag and shake to blend.
Place the beaten eggs in a shallow dish.
When the skillet is good and hot, put the flounder fillets in the bag one at a time and then dip in the egg. Coat them completely with the egg and place in skillet. The egg should sizzle immediately. If it doesn't, the oil isn't hot enough.
Save 1 tablespoon of the flour mixture for the sauce.
Fry over medium heat until brown on both sides, about 3 to 4 minutes per side. Add extra butter if you need to.
Remove from skillet, keep warm.
Discard any oil left in skillet and add the butter and the 1 tbsp of seasoned flour reserved from the flounder. Whisk until smooth. Add the rest of the sauce ingredients, stirring constantly until well blended. Bring to boil and cook 5 minutes, stirring frequently. If the sauce thickens too much, add more water- just 1 tsp at a time until you achieve the desired consistency.
To serve place flounder over a bed of buttered rice (or whatever you're using) and pour a little sauce over each fillet. Garnish with lemon slices and parsley.