vrvrvr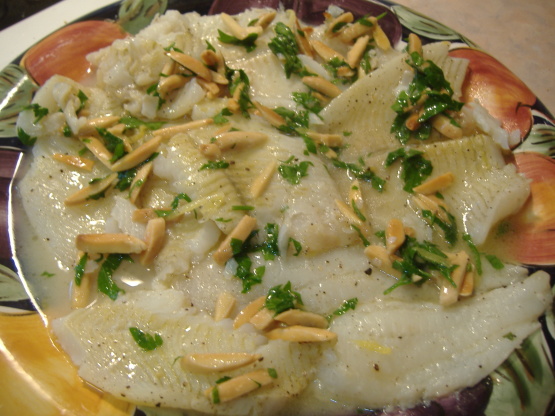 I had some frozen flounder filets I had bought at Costco and wanted to do something just a little special rather than the ordinary. I found this recipe on the back of the bag containing the flounder. It is so good, quick and easy -- and you will probably have all the ingredients on hand (as long as you already have the flounder ;) Would be nice to serve with rice. Enjoy!

Excellent! So easy and fresh tasting. My flounder (summer flounder--Fluke, caught in Cape Cod) was fairly thin, so I also decided to reduce the oven temperature to 400 (although it was still at 450 when I put it in). It fell apart a little bit, upon turning it, but was still delicious. Used fresh parsley, fresh lemon and real butter. It couldn't have been better!
Preheat oven to 450 degrees F.
Melt butter in shallow baking dish in oven (do not allow it to brown).
Remove baking dish from oven and add the wine, lemon juice, salt and pepper.
Arrange fish in baking dish; flip to coat with butter mixture.
Bake in 450 degree oven 10 minutes per side, 20 minutes total, or until fish flakes easily with fork.
Remove fish from pan.
Stir almonds and parsley into butter mixture.
Spoon mixture over fish to serve.
Serves 4.