Floridanatives Salsa Avocado and Egg Salad
gemini08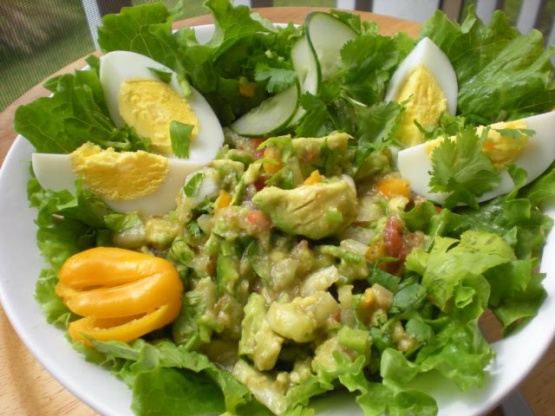 I absolutely love the Rotel Salsa recipe I adopted from lazyme - Rotel Salsa - I use it all the time when we have anything Mexican or Southwestern. I've been on a strict diet lately, and this is a recipe I modified to fit my tastes, and of course, it's got Rotel Salsa in it. The lime juice in the fresh salsa helps to keep the avocado a pretty color and the salsa itself adds just the right amount of spice. Hope you enjoy it as much as I do - I love this stuff. Serving size is for 1 person - for an individual breakfast, lunch or snack.

This salad turned out very nice but it needed a few modifications. As written, it was a tad too bland for me. I ended up adding quite a bit of lime juice, chopped jalapenos and cilantro. As my veggies I used a white onion, rainbow mini peppers and a fresh cucumber as well as my home canned rotel salsa. I served it on a bed of lettuce with the egg on the side. It was nice and crunchy and very healthy. Made and reviewed for PAC Fall 2012
1 1⁄2 ounces finely chopped raw vegetables (I use carrots)

1

thin slice white onions (See NOTE) or 1 thin slice red onion, finely chopped (See NOTE)

1

dill pickle, spear finely chopped (I use Claussen, See NOTE)
1 1⁄2 ounces fresh Hass avocadoes, mashed (about 3/4 of a HALF of an avocado)

1

large hard-boiled egg, peeled, rinsed and coarsely chopped

2

tablespoons prepared salsa (Rotel)
Mix the vegetables, onion and pickle spear in a small bowl.
NOTE: if NOT using the onion and dill pickle, use 2.0 ounces of chopped raw veggies.
Add avocado and mix together well with veggies.
Add egg, and mix well.
Add salsa and mix well.
Season with salt and pepper to taste, if necessary.
TO SERVE: I eat this with FINNCRISP Rye Crispbread or RYVITA Dark Rye Crispbread. I'm sure it would be good with tortilla chips or rolled into a wrap.
SALSA NOTE: If you do not use lazyme's recipe#315990, I cannot guarantee what this will taste like. For me the ingredients in this salsa recipe are spot on and it's the only salsa I use at home since finding the recipe!