Floridanative's Pinto Bean Burritos

From the back of the pinto bean can, these have great flavor and are easy to make for a quick week night dinner. While we like these burritos as written (though I add more green chilies), you can spice these up by adding 1/8 teaspoon ground red pepper, 2 teaspoons hot sauce, or minced ancho chilies, depending on your preference. These burritos are also good with black beans, or a mix of both black and pinto beans.
Directions
Preheat oven to 350°F.
In a large sauce pan over medium heat, saute onion and garlic in oil until soft.
Add beans, chilies and seasonings. Mix and mash the beans somewhat to the desired consistency.
Remove from heat; spread beans, cheese and salsa in the middle of each tortilla. (I use about 2/3 cup beans and about 1/4 cup cheese per tortilla so they roll up nicely).
Roll up tortillas and place in 7 x 11 or 9 x 13 ovenproof casserole dish, lightly sprayed with oil.
Cover with foil and bake at 350F for 15 minutes. Serve.
NOTE: I put additional salsa and cheese on top before baking ~ we like our burritos extra cheesy!
Most Helpful
This is my first time making burritos and it couldn't have been easier or tastier. I left out the green chilies (didn't have any). Will be making these more often. Made for I Recommend Tag Game.

Fantastic dish! Being vegan, I had to omit the cheese which I replaced with boiled potato (strange sub I know but give it a whirl, it tastes fab!) Otherwise I stuck to the recipe and hubby and I really enjoyed it. Served with recipe#370472 and made for the Hot Pink Ladies ZWT 7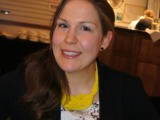 These bean burritos are better than the ones that I usually make. I used an entire can of green chilies, too. I did not cover my burritos with foil, just topped them with some salsa and some cheese and they came out very great, my husband and son slathered them with sour cream and I ate them plain. Thanks for posting a new family favourite!