Floridanative's Artichoke & White Bean Soup
Annacia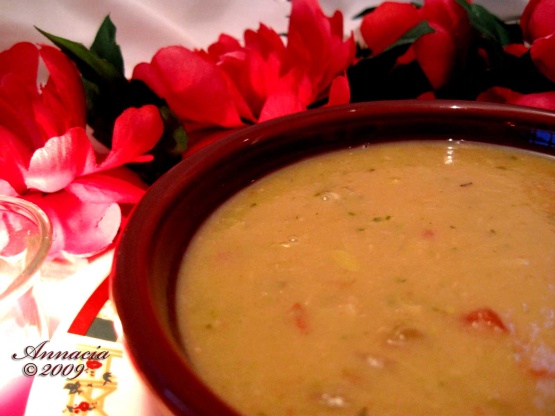 An adaptation from an old (1998) Eating Well recipe -- very quick to make and very tasty. Add some toasted Parmesan cheese bread and a green salad and you've got a very tasty dinner.

I really enjoyed this although I used an artichoke salsa in place of the canned artichoke hearts. The salsa had tomato and various things in it so, of course, it had a flavor that differed from the original recipe. After a sample I added a splash of white vinegar and some salt which gave more of a marinated artichoke-ness. It's very simple to make and a great change from the everyday bean soup. I didn't have the croutons to add but they would be a perfect touch. Made for "Partying The Diabetic Way*
Heat oil in saucepan over medium heat. Add garlic and onion, and saute until translucent and fragrant. Remove from heat.
Puree artichokes, cannellini beans, sauteed garlic and onion in food processor until smooth. (I had to use my blender, so I added some of the chicken broth at this point!).
Add pureed mixture to saucepan, add remainder of chicken broth, thyme, salt and pepper and heat through.
Check seasoning and adjust as necessary.
Serve with croutons to garnish.