Rita1652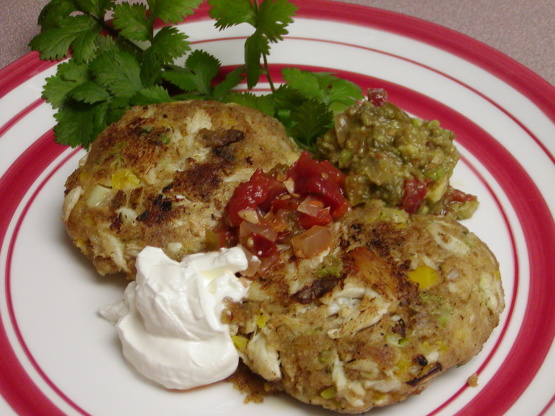 A Mark Militello recipe. Accompany with my #97094 and toast points.

So Good! I went for heat in this recipe using my home grown Habanaro`s. The only change I made was I had to use Dried Onion flakes because I ran out of onions. I made 4 patties out of this. Served them with salsa, avocado dip, fresh cilantro and sour cream.
Combine first 9 ingredients in bowl.
Season with salt and pepper.
Mix in egg.
For mixture into 8 equal patties, using scant ¼ cup for each.
(can be made ahead, covered and refrigerated).
Melt butter in large nonstick skillet over medium heat.
Fry cakes in batches until golden-brown, about 2 minutes per side.
Transfer cakes to paper towels; drain.
Arrange 2 cakes on each of 4 plates.
Top with Avocado 'Butter' and serve with toast points.