Redsie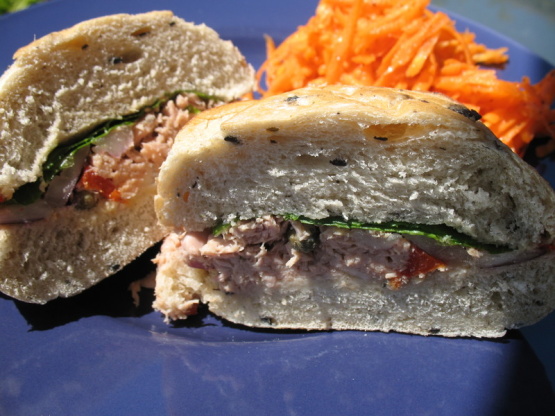 Recipe by Sharon Sanders, "Relish Good Food Fast," September 2006.
Slice rolls in half through the middle. Pick out some of the bread from top and bottom halves to create a slight depression.
Combine tuna, onion, celery, capers, lemon juice and a pinch of red pepper flakes; mix well.
Spoon 1/2 tuna mixture onto each of the roll bottoms.
Cover with spinach and roll tops.
Top paninis with a bacon press or another platter with some heavy canned goods placed on top.
Let stand 15 minutes for flavors to blend.
Note: If tuna canned in olive oil is not available, replace it with 1 6 oz. can solid light tuna in water, drained, and add 2 T extra-virgin olive oil.