Florentine Style Steak -- Bistecca Alla Fiorentina
PaulaG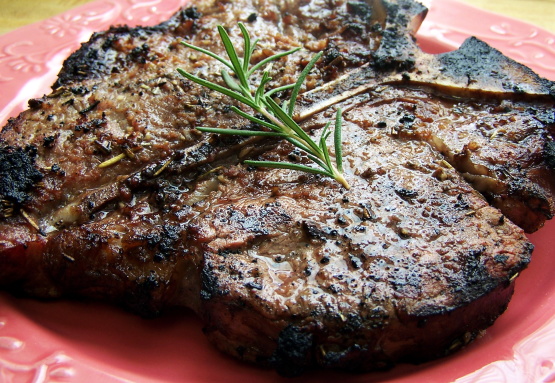 My DD and SIL had their honeymoon in Italy in December. For a gift to her father, she sent 2 wonderful porterhouse steaks and a fabulous menu complete with recipes so that we could share Italy with them.
I made this with a NY strip steak (thin sliced). I just had to adjust the cooking time. The flavors complement the steak perfectly. Goes with everything. Made for ZWT 7 Italy.
Remove the steaks from the refrigerator, rinse under water, pat dry with paper towels and allow to sit at room temperature 30 minutes before cooking.
Put the fatback, garlic and rosemary into a food processor and blend until it is the consistency of toothpaste.
Rub the fat mixture evenly over the meat and season with coarse salt and fresh ground pepper.
Use a hot, clean, oiled grill and grill the steaks for about 5 to 6 minutes on each side for medium rare.
The fillet will cook a little faster than the strip loin. Move the steaks frequently, approximately every 2 minutes or so, for even cooking and a crispy exterior.
When the steaks are cooked, take them off the grill and allow to rest for 5 to 7 minutes. The resting allows the blood to circulate and distributes the juices evenly.
Serve and enjoy!