vrvrvr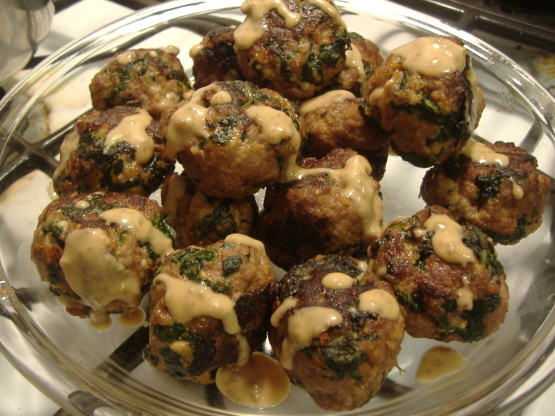 These spinach meatballs are great. I recommend topping them with a bit of alfredo sauce.

Top Review by vrvrvr
Excellent. I used fresh baby spinach, quickly sauteed with garlic, drained on paper towels and roughly chopped. I used ground beef instead of turkey, and 1/4 c. ketchup in place of the milk. I browned them in a skillet and finished in a 400 oven for about 15 minutes. The result was a moist, tender meatball bursting with flavor. Went perfectly with crispy potatoes. Everyone loved these. Winner!!
Preheat oven to 400 degrees F.
Wring defrosted spinach dry in a clean kitchen towel.
Place turkey in a bowl and make a well in the middle of it.
Add the spinach, onion, garlic, 1 large egg, about 1/4 cup milk, bread crumbs, grated Parmesan, salt and pepper. Mix well. Form into 12 large balls and drizzle with extra-virgin olive oil. Arrange on a nonstick cookie sheet and roast 20 to 25 minutes (depending on your oven).
Top with alfredo sauce.