Florentine Breakfast Wraps
Peter J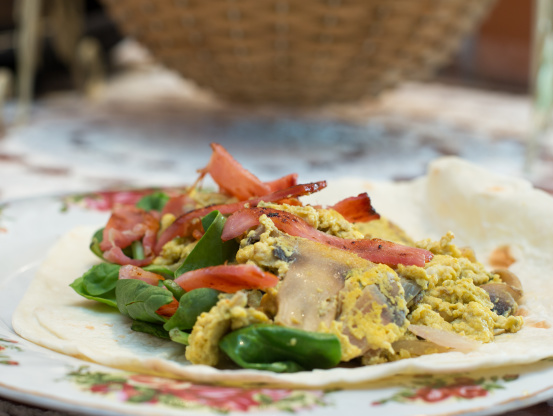 In order with eating healthier I developed this recipe to include a good source of vegetables and protein to start the day off right. I am posting it with gluten free options. Serve this with a side of fruit for a great start to any day. The recipe was designed for 2 but can be easily adjusted to serve more.
Cook the bacon until crisp in a heavy skillet. Remove bacon and wipe out skillet with a paper towel. Add in the sliced mushrooms and saute until nicely browned. Add in chopped onion and jalapeno pepper.
Beat the eggs with the yogurt and pour over cooked vegetables. Using a spatula push the uncooked portions of the egg to the center of the pan. Cook until eggs are set. Season to taste with salt and pepper.
Microwave the wraps for 10 to 15 seconds. Divide the egg mixture between the wraps, top with crisped bacon and spinach leaves. Wrap burrito style, secure with a toothpick and serve.