Rita1652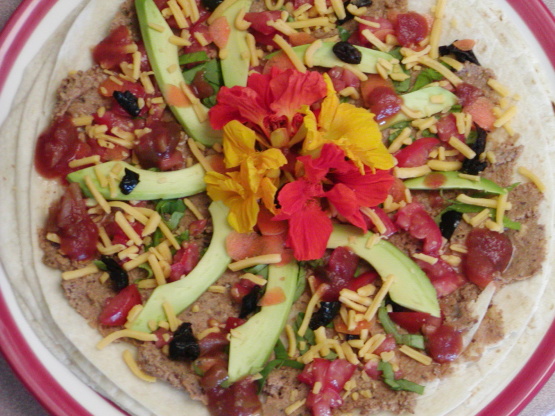 Go out to the garden, the flower garden that is, and get some ingredients for this delicious meal!!!

It`s too pretty to eat. But I did! I made it for 1 myself. I used 1 tortilla (not fried)spread the 2 tablespoons of beans (bean dip I had left over from a party), sprinkled 4 nastrtium leaves chiffinade, 1 small diced plum tomato, 1/4 sliced avacado, 4 black olives, some carrot, 1 tablespoon cheese,for the hot sauce I used salsa and garnish it with the flowers. Before adding the flowers I microwaved it for 40 seconds.When it came to eating it I rolled it up and ate like a burrito. And this hit the spot. Lots of flavor here the leaves gave a pepppery taste.The olives gave it nice saltyness. Creaminess from the beans and avacado.Thanks for posting everyone should give it a try.
Assemble ingredients on tortillas in layers, starting with mashed beans and ending with flowers.
Add hot sauce to taste.