Flor De Cana Tribal Cana in Celebration of Survivor: Nicaragua
dkatzdgc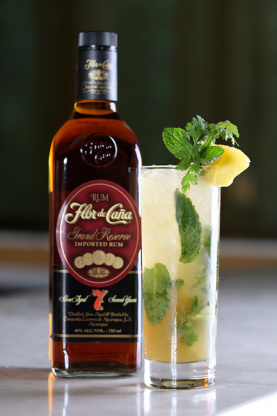 CBS'S SURVIVOR, INDEPENDANCE DAY AND RUM: NICARAGUA ERUPTS THIS SEPTEMBER! Celebrate the debut of CBS Survivor: Nicaragua and Nicaraguan Independence Day by lifting a glass of Flor de Caña rum, the pride and spirits of Nicaragua! When CBS's Emmy Award winning television show, Survivor, was looking for the perfect location to shoot their next season, they wanted a country that was up- and-coming, picturesque, and with a culture full of passion and energy. Which country did they pick? Nicaragua! Tune into the 21st edition of the long-running reality series – as it premieres at 8 PM EST on Wednesday, September 15th. Gather with friends and family to enjoy this Nicaraguan-inspired cocktail, created by mixologist, Joel Black.

Oh, wow. This was such a great drink. And it has a lovely combo of flavorings happening here which will be difficult to describe well enough to do it justice. The lime juice added just a touch of tartness, but the pineapple juice, mint leaves and vanilla gave it a pleasant sweetness that offset the tartness enough to really make this a memorable drink. I don't watch Survivor, but I just might now, if this is what is regularly served up during the weekly broadcasts. Thanks for sharing your recipe, dkatzdgc. This is a "keeper"! Made for Spring 2011 Pick-A-Chef.
Muddle mint, cilantro, lime and pineapple juice in a Collins glass.
Add the Flor de Caña 7 year rum and vanilla.Fill the glass halfway with crushed ice and use a spoon to swizzle ingredients.
Fill the glass the rest of the way with crushed ice and give another swizzle.
Garnish with a mint and cilantro spring.