Elmotoo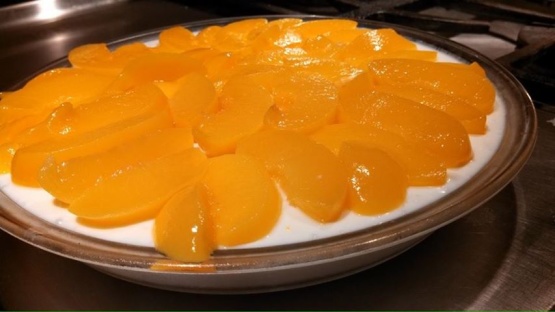 Here is another version of my Swedish Creme recipe that is less formal and great for everyday dining. Again, you can also top this with any kind of fresh fruit that is in season. Posted for ZWT 6.

Actually 4.5 only because it didn't set up properly. I followed directions (gasp!), too. But, OMG HOW DELICIOUS!!! Which is why I rounded UP the stars instead of down. ;) This is so silky smooth & luscious. Absolutely divine! I can see making this daily with a different fruit each time. Well, maybe not EVERY single day, but you know what I mean. Next time I will use 2 packets of gelatin. Made for ZWT9, Mike & the Appliance Killers!
In a medium saucepan over low heat, heat the half-and-half, gelatin, and sugar for about 8-10 minutes, stirring frequently, until all the sugar is dissolved and steam starts to form. Do not boil.
Remove from the heat and cool for about 5 minutes. With a wire whisk, stir in the sour cream and the extracts and combine thoroughly. Pour into a 9-inch glass pie plate and chill for 2-3 hours. Top with the sliced peaches and serve.