Bri22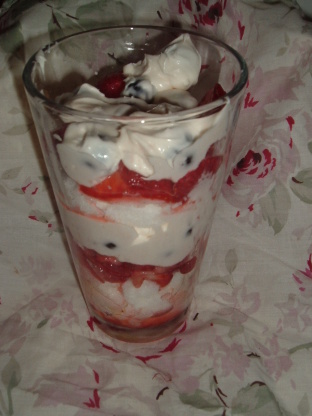 You will think you are "floating" in a dream, when you taste this. Most of the work here takes place in the fridge! I did not include this time in the preparation area.

Top Review by Bri22
This was delicious. I made a few goofs but they turned out to be fine. I misread the directions and added the bluberries to the cream mixture, But tasting the two in one bite makes me think I will do it this way from now on. The only other thing I did different was we assembled them in individual glasses because I was worried the angel food cake would get too soggy, taking in to consideration, we have three strawberry desserts in our fridge to eat due to this swap! Any ways the flavor was wonderful with the almond extract coming through nicely. Thanks Happy Harry!
Mix strawberries and Splenda in a bowl, cover and chill overnight or for at least three hours.
Beat cheese and powdered sugar until smooth. Add extracts. Stir. Fold in Cool Whip gently. Add blueberries and glaze to strawberries, stir together.
Tear cake into bite-size chunks.
In clear bowl, place 1/2 cake, then 1/2 cream mixture, then 1/2 fruit mixture. Repeat.
Cover and chill for several hours or overnight.