Ducky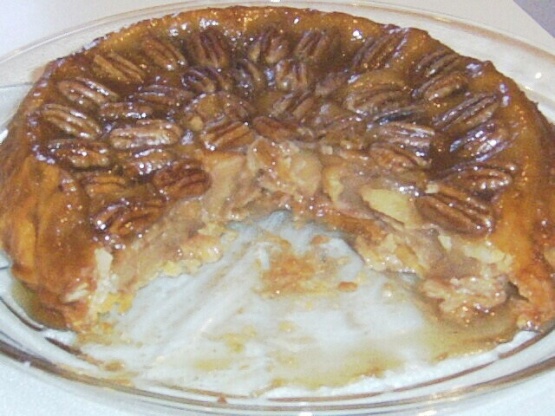 My friend/ neighbour brought me round this pie, she claims to not be able to cook,but she must have hidden talent because we could not stop going back to sneak another piece.Delicious with vanilla ice cream.

Top Review by Ducky
OMG, this is wonderful! It tastes great and looks just as good! I used 4-5 Rome apples (can't rightly remember). The only problem I had is that the bottom mixture bubbled up and out of the pie dish. Luckily I have a spill mat on the bottom of the oven. This is a great twist on the traditional apple pie.
In a 9inch pie plate spread evenly the butter and brown sugar which have been combined. Arrange pecan halves in a design, pressing into sugar.
Cover with plain pastry, trim, leaving 1/2 inch hanging over all around.
Combine all the dry ingredients with apples and lemon juice. Pile onto pastry and cover with second crust.
Fold bottom crust over top crust wetting as you go, flute edges and prick top of crust.
Bake at 450 for 10 mins then at 350 for 30 - 45 mins longer.
When syrup in pan stops bubbling, place serving plate over pie and invert. Remove pie plate and serve with vanilla ice cream.