teresas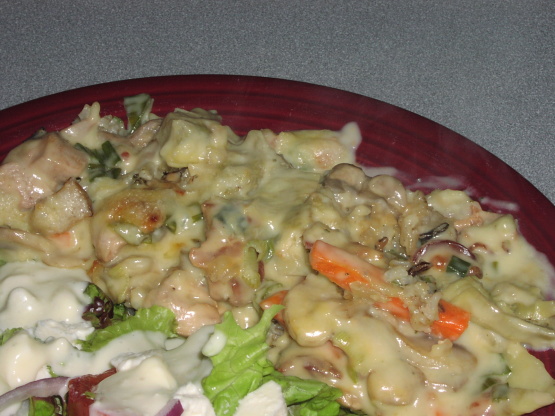 Chicken breast works nicely for this casserole also.

We love this receipe for it's flavor. We do substitute one juliened large red pepper for the artichoke hearts and garnish with sliced ripe olives.
Put the wild rice in 9x9x2-inch baking dish that has been sprayed with nonstick vegetable spray.
Layer the carrots over the wild rice.
In large skillet, cook bacon until crisp; drain and crumble over the carrots.
Pour off grease from skillet and add a tablespoon or two of oil.
Saute the pheasant until well browned on both sides (about 10 minutes).
Transfer to baking dish.
In same skillet, saute the mushrooms and green onions until tender, adding additional oil if needed.
Add soup, cream and sherry, and mix well.
Add mozzarella and gently stir in artichokes.
Spread over the pheasant layer.
Sprinkle with Parmesan.
Cover dish with foil sprayed with nonstick vegetable spray.
Bake at 350° for 30 minutes; remove foil and bake 15 more minutes until bubbly throughout.