Fleischsalat (Meat Salad)
Parsley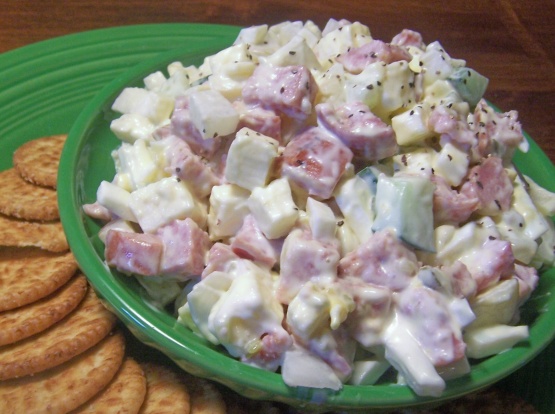 I adopted this recipe and this is the original description, "This is my families version of Fleischsalat. It is not like what you can buy in German shops under the same name (they just contain bologna, pickles and mayonnaise). My dad used to make a huge bucket for the Christmas holidays and for me it's still part of Christmas, though I'd eat it any other time of the year as well. It is lighter than the standard Fleischsalat. Use more Fleischwurst if you like".

I loooooooveee Fleischsalat, and am so glad to see a recipe for it. My father has made this for us all our lives and it rocks! We use Leone and add chopped onions, sweet pickles, and emmental cheese. We use a oil and vinegar dressing - just half and half with some salt and pepper. I have had it with mayo dressing too and it is awesome as well. Thank you for sharing this awesome salad!
Finely dice all the ingredients and mix with the mayonnaise.
Let sit for 30 minutes in the fridge before serving.
Can be stored in the fridge for about a week.
Serve on bread (pumpernickel).