Flax Vegan Egg Substitute
Prose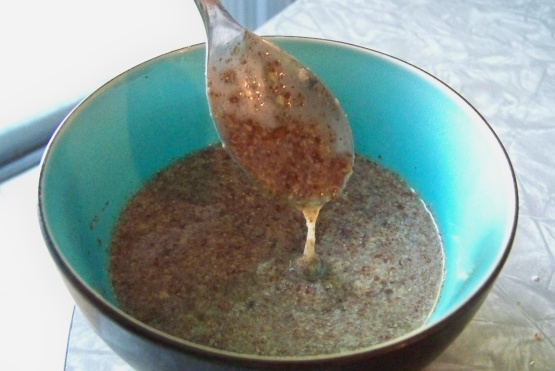 This is a vegan substitute for eggs in baked goods. It could probably work in casseroles too, but don't try scrambled eggs with this! ;)

Excellent! I love this egg substitute and use it often. I don't boil the mixture, however. I add the flax meal to a small bowl, add very hot tap water and stir. I let the mix sit for about 10 minutes, stirring occasionally. When I bake I usually do this first so when I need a "flax egg," it's ready to go. I have used this substitute successfully in muffin and quick bread recipes but haven't tried it in anything that calls for more than three eggs.
Simmer flax seeds and water in a saucepan for about 5 minutes (or less or more time depending on the amount you are making) or until thick, egg-like consistency has been reached.
Let cool before using in a recipe.** (About 10 minutes).
This recipe makes 1 eggs worth, but it can be easily made into a larger quantity using the 1:3 ratio- for example, 1 cup ground flax seeds and 3 cups water (that would make 16 eggs worth) and will keep in the fridge for about 2 weeks.
Use about 1/4 cup (which is equal to 4Tbs) egg substitute for every egg.