Rita1652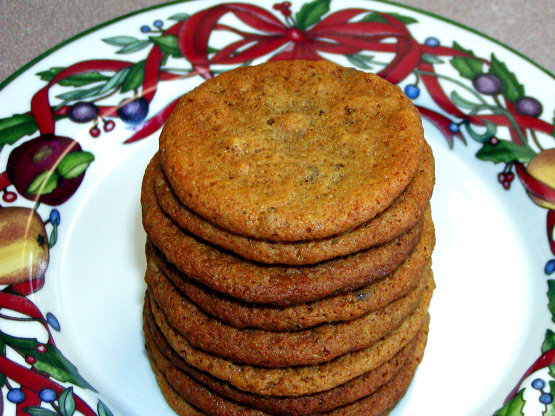 I came up with this recipe when I wanted my 17 month old daughter to start taking flax. They are simple tasting, chewy and fairly easy to make. I flatten them down twice during baking with a spatula; once after 5 minutes of baking and then about a minute before they come out of the oven. DO NOT USE FLAX OIL in this recipe or any baking recipe for that matter as it breaks down into a substance that is not safe for ingestion. Only use flax seeds for baking or flax meal. Prep time doesn't include chill time.

Oh WOW, these are good! No, not "good"... fantastic! I used half honey and half molasses (personal preference... I love molasses!) and regular salt, and didn't bother with flattening them during baking. Mine were a little smaller, so I ended up with about 40 cookies... ALL of which were greedily polished off by my fiance, our roommate and me within 24 hours! My fiance is already begging me to make these for the holidays. I will happily comply. :)
Cream together butter (or oil) and brown sugar.
Stir in egg and honey and mix well.
Fold in your dry ingredients (including the flax) and mix.
Cover with a towel and chill for about 2 hours.
Preheat oven to 350°.
Make dough into small balls (you can roll in additional flax seeds if you want).
Place on lightly greased cookie sheet.
Bake for about 9 minutes.
Remove and let cool on flat surface or wire rack.