Debbwl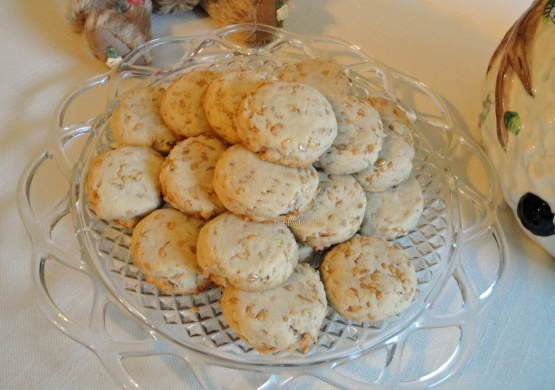 These cookies come from my godmother. I made them a few times when I was a teen and living with my parents.

Top Review by dazie2
I've been trying to find recipes to use Flax in, and this looked like a healthy option. I ground 1/2 cup of whole seeds in a coffee grinder because they have little to no nutritional value whole. I followed your recipe, using about 2 1/4 cups of flour, and then I added in some chopped walnuts and raisins that I had sitting around in my cupboard. The dough began to crumble when I tried to roll it into balls, so I had to refrigerate it for a little bit, then I made about 1 inch round balls with the dough. Because it was so moist I thought it would set out as it baked, but after 8 minutes I noticed that it wasn't, so I pressed the balls with the bottom of a glass and did the same with the next 3 batches. They took a lot longer to bake, more like 15-18 minutes to reach slightly golden. I made 3 dozen cookies that are quite bland and dry. I dipped one into some chocolate sauce and it was edible, but I would not make these again.
Mix everything together until you have a nice consistency. Add between 2 and 3 cups of flour. When the dough holds together, it means it's enough flour. Put by teaspoon on a baking sheet and bake at 350 F around 12-14 minutes until they are just a little bit golden. But don't cook them too much.