Flax Seed Bread (Bread Machine)
Anonymous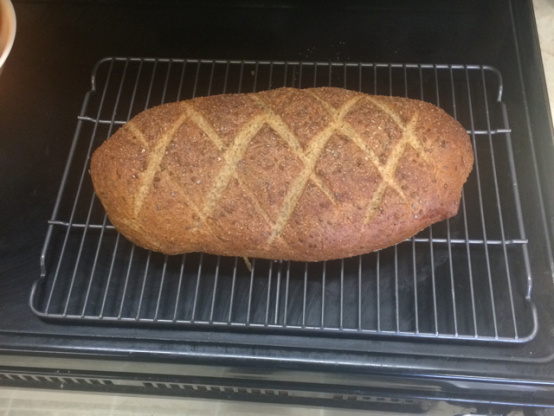 I saw flax seed at the grocery and bought it without any idea of what to do with it. I found out that flax seed contributes fiber and omega-3s to the diet. Even better, it made this delightful, speckled loaf with a nutty flavor. Wonderful as is or toasted.

Top Review by WiGal
Nice color and very dense. I did use more water than the recipe calls for as my bread machine was bogging down. I used a total of at least 1 1/2 cups plus another tablespoon of water. Thanks duonyte for posting. Made for PRMR Holiday Special.
Place ingredients in your bread machine as directed by your manufacturer.
Set to dough cycle. Check the consistency after about 10 minutes - if it looks dry, add a little more water.
After initial rise, remove, shape in a large round loaf (or whatever you like), let rise again on a cornmeal dusted baking pan.
Preheat oven to 400 deg. If desired, brush loaf with an egg wash (one egg beaten with 1 tbl. cold water). Slash loaf with sharp knife. Place in oven. After 15 min., reduce temperature to 350 deg.
Bake for an additional 25 minutes or until loaf is done - an instant thermometer should read 205 deg.
Turn onto cooling rack and let cool.
Note: If using flax seed, 2/3 cups seed will grind into 1 cup flax meal.
Note2: If using egg wash, you may also sprinkle loaf with whole flax or poppy seeds.