Sageca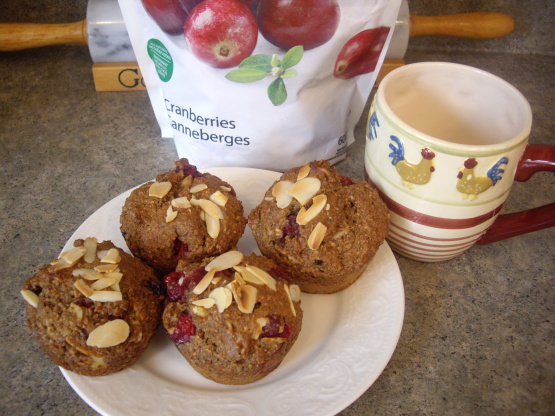 This great tasting recipe is very healthy. It is low fat as well as being full of fibre. I love muffins but the ones you buy are so full of calories that I stay away, With this recipe you can have a muffin waiting for you in the freezer anytime. Enjoy!

I enjoyed the cranberries in this muffin. My mix was very thick also which made them a dryer muffin. I use the ice cream scoop like you said and it worked perfect!! I was able to make 12 uniform muffins. Made this for *ZWT4* 2008 for the *Eastern Europe Bread and Bakery Challenge* . I'm playing on the team *Tastebud Tickling Travelers* Got to love ZWT4! Thank you for posting.
Preheat oven 375*.
Spray muffin tins with Pam.
In bowl stir together All Bran and milk; let soak 5 minutes.
Meanwhile combine flour,flax seed,brown sugar blend,baking soda, baking powder, salt,raisins and cinnamon.
Add Egg Beater, canola oil and vanilla to the All Bran.
Gently stir in dry flour mixture with the wet ingredients.
Add cranberries.
Spoon batter into muffin tips.
Sprinkle each muffin with Splenda.
Top with almonds.
Bake for 30 minutes.
Tip: I use an ice cream scoop to make my muffins; makes it so much neater.