CoffeeB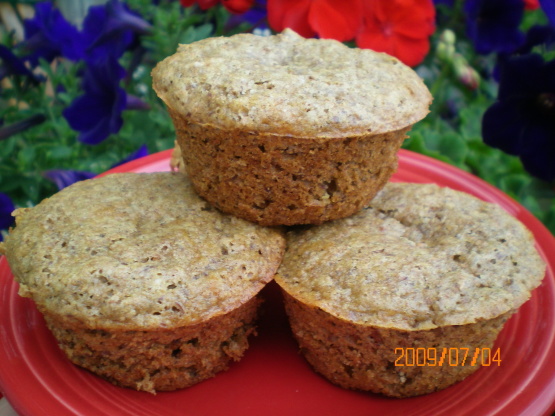 These are low-fat and low-sugar, which is good for us diabetics. I use a little real sugar with the Splenda, because the texture turns out better, and my blood-sugar levels are under control, but some diabetics may want to use a cup of Splenda and no brown sugar. (or use Splenda Brown Sugar Blend-I have never used it so don't know the proportions)

Ooohhh...these are so so good Mike. I love a bran muffin and these with the addition of the flax seed meal are wonderfully moist and delish. I used a combination of 1/2 wholewheat flour and 1/2 all purpose. I also used one egg in place of the egg substitute. Also, I took your advice and used 1/2 cup splenda and 1/4 cup regular sugar. They are still plenty sweet. A great low-fat treat. :-) Made for HolidayTag.
Preheat oven to 375°F.
Coat a 12-count muffin tin with nonfat cooking spray.
In a large bowl, combine liquid ingredients with All-Bran and brown sugar. Stir until moist and set aside for 5 minutes.
In another bowl, combine remaining ingredients. Add to bran mixture and stir gently until blended. Do not overmix.
Spoon batter into muffin cups (batter will be thin) until they are 1/2-3/4 full. Bake 15-20 minutes or until wooden pick inserted in center of muffin comes out clean. DO NOT OVERBAKE! Remove from oven and let sit 5 minutes. Remove to wire rack to cool.