I wish I could remember where I got this-it was somewhere on the Internet! But it's fabulous, filling, delicious & very nutritious! I know the ingredients seems small for one serving, but I find it to be enough. Feel free to double up, though, if you're really hungry!
Directions
Mix first 5 ingredients in a microwave safe bowl.
Microwave on high for 2 minutes
Stir oatmeal, and add flaxseed (it will thicken the oatmeal so don't worry if the mixture seems thin at first!)
Top with optional Splenda packets. I also top mine with more sliced banana & low carb vanilla yogurt. Raisins or nuts would be good, too!
Most Helpful
Delicious and healthy! I really enjoyed this combination. This will be a repeat for sure. Thanks!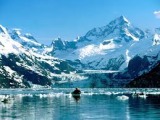 Very tasty. Made as written using a few nuts, raisins and dollop of yogurt as suggested at the bottom of the recipe. Mad twice the first time it boiled all over the microwave the second time cut the cook time to a 1 1/2 minutes which worked better. Think this would be really good sprinkled with a little Splenda Brown and Walnuts. Thanks so much for the post.

Very good and filling! I didn't have any flax seeds so used oat bran and skipped the spenda. Delicious! Will be having again soon!