Flax Meal Cinnamon Muffins - South Beach
aca625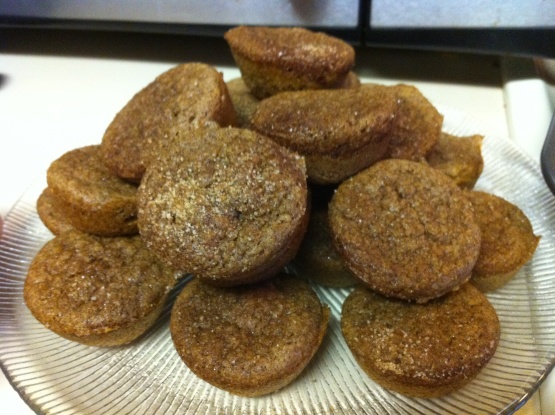 This is a good way to introduce flaxmeal into your diet. These muffins are also Phase II appropriate for the South Beach Diet, just be sure to count this toward your daily nut/seed allowance. Believe me, when you have been craving bread, these muffins taste like heaven!

These were very good! I used apple sauce instead of syrup since I didn't have sugar-free, I also marbled in about 1/3 cup of all natural peanut butter (of course I made lightly smaller servings b/c of this). I do regret not having the syrup b/c I believe the muffin was a little too dry even with apple sauce which typically works pretty well. However, I def. suggest anyone try the swirl of peanut butter, its excellent! Good recipe!
Preheat oven to 350.
Beat together eggs, oil, syrup, water and vanilla. Set aside.
In small bowl, combine flaxmeal, baking soda, baking powder, cinnamon and salt.
Slowly stir dry ingredients into egg mixture. Let stand 5 minutes.
Spoon batter into 10 well-greased muffin tins.
Bake at 350 for 12-15 minutes or until muffins are lightly browned and seem set to the touch.
Remove from muffin pan immediately and allow to cook on rack.
Store in refrigerator. (Can be frozen if desired.).