Flawless Pressure Cooker Brown Rice
gailanng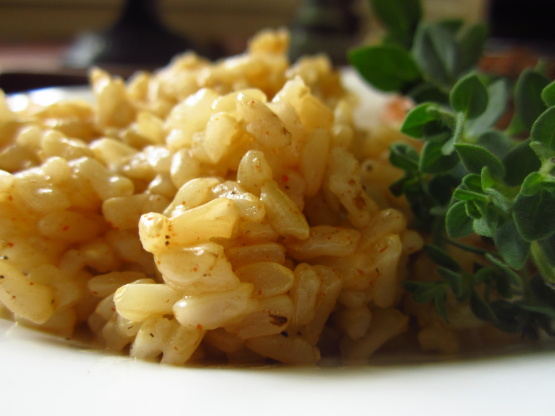 A simple yet delicious sticky brown rice recipe that pairs well with any meal

Top Review by 971256
WOW!!! I typically make brown rice for my family because it's healthier than white, but despite me trying to convince my family that it tastes the same, I have always secretly loved white rice, until I tried this recipe that is. MMmmMMmmMMmm.... I just received my first pressure cooker for Christmas and wanted to give brown rice a try. I tried it the way the PC manual described on the steam setting, and thought it was pretty good, but then stumbled across this recipe. It is as everyone describes. DELICIOUS, creamy, risotto-like in texture (without being goopy or mushy), and perfectly cooked.

If you like a slightly drier rice, cut down on the water slightly and do make sure you let it naturally release the pressure for at least 10 minutes after the timer goes off, or else you'll end up with a bunch of water. If you want to do the quick release method for faster rice, I'd also recommend decreasing the water by about 1/4 - 1/3C, and increasing the cooking time to 20 minutes, but the texture won't be quite as good.

My husband and daughter were both convinced that this had to be white rice because of its amazing, fluffy, smooth consistency, until I showed them the empty bag of brown rice. I plan on making larger batches and freezing them to have on hand down the road. HIGHLY RECOMMEND!!!
Spray pressure cooker with cooking oil.
add all ingredients to pressure cooker.
Once pressure is achieved, set timer for fifteen minutes.
let pressure drop by its own accord and keep lid on until ready to serve.
This will yield a rice that is not dry, maintains a nice consistency and is far better than any stovetop version.