Flavorful Sausage Gravy and Biscuits for a Cold Morning
lazyme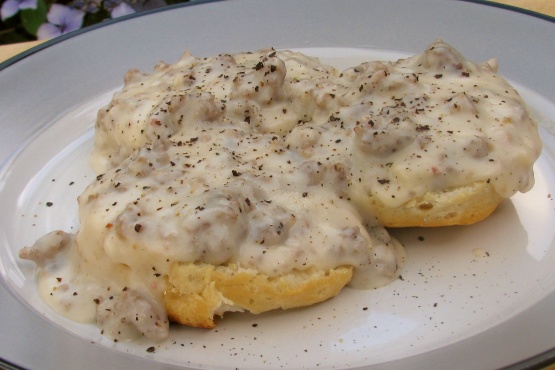 Posting here for "Annie". I don't use anything but Hot breakfast sausage, (Jimmy Dean's but I'm sure there are others out there), for the Sausage Gravy. Great flavor, just enough heat and the kids (even the big one) milled it. LOL. Note: Prep time does not include making the biscuits.

Don't think for a moment that biscuits and gravy are only for breakfast. Then just made a wonderful lunch on a snowy day. This is heart felt comfort food that feeds your soul as well as your tummy. I have to say that I used veggie sausage with some red pepper flakes added in place of pork sausage to help with diabetic needs. It tasted wonderful and every bite was enjoyed.
In a large skillet, over medium-high heat, cook sausage until browned and cooked through, crumbling and breaking it up as it cooks.
Sprinkle flour over the sausage and drippings and stir until all flour is dissolved and incorporated. Cook for a minute or two longer.
Slowly stir in milk, stirring constantly. Cook, stirring constantly, over medium-high heat until thick and bubbly. **Note** If the gravy is too thick for you at this point you can add more milk in 1/8 cup increments.
Remove from heat. Taste gravy and season with salt and pepper as desired.
Serve over hot biscuits that have been split open on the plate.