Tisme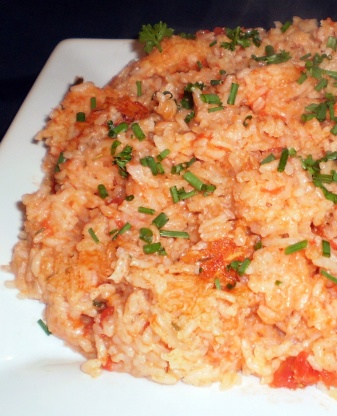 Always looking for more ways to make rice and get away from boxed mixes...

Top Review by Tisme
I made this recipe as written.
We loved it for dinner here, a change from the normal everyday rice, with lovely flavours from the tomato's and herb's.
I did have trouble with the cooking of the rice, I just can't get used to my rice cooker!!!!! I don't seem to ever get it perfect, and the rice did end up just a fraction gluggy, but that is no fault of this wonderful recipe, it is entirely the fauly of my rice cooker and myself! :-)
The family all did enjoy this and I will be making it again, and again, until I get this perfected... or throw out my rice cooker, whichever comes first! lol
Great, easy and fantastic tasting recipe AZPARZYCH.
Thanks for a great way to serve rice.
THINK PINK RECIPE TAG EVENT - OCTOBER 2011
In your rice steamer combine the water, rice, olive oil, vinegar, basil, oregano, salt, pepper and tomatoes.
Cook according to steamer's settings.