gemini08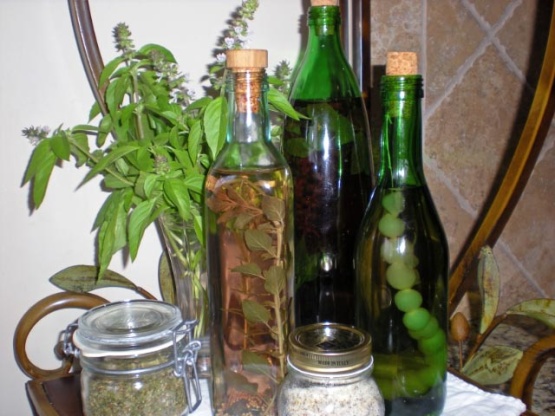 Adapted from the book "The French Farmhouse Kitchen" by Eileen Reece. Flavored wine vinegar has been an important ingredient in French cooking since medieval times when vinegar was essential in order to keep meat edible in warm weather. Use whatever herbs and seeds you like or have in the garden. Thread perl onions or garlic with a darning needle on a fine string, tie around the cork and suspend into the vinegar.

Sounds like some great flavour combinations. A couple of tips, the best info I found on making fruit infused vinegar said to use equal weights of vinegar & fruit, let it infuse in a cool dark place for a minimum of 6 weeks. I would think this would be ideal for herb vinegars as well to give you a more intense flavour. We actually preferred using apple cider vinegar rather than wine vinegar for most of the infused vinegars I made. It seems to be a mellower finish. Now from experience, make your vinegars in a mason jar rather than the bottle you will gift them in. You need to strain your vinegar after infusing. Once it is strained you can decant it into the bottles you are using for gifting.
Collect the number of bottles necessary, with sound corks to fit.
Wash the bottles in soapy water, rinse first in very hot then in cold water, drain, dry and heat in a slow oven.
Scald the corks in boiling water.
Pour vinegar into an enamel lined or stainless steel pan and over low temperature slowly heat, do not let boil.
Add shallots, garlic, seeds and/or sprigs of herbs to the warm bottle.
If using tarragon, use a long sprig, twice the hight of the bottle, bend it double and push it down the neck of the bottle.
Fill up with warm vinegar, cork down tightly, place on a sunny window sill to mature for 4 - 6 weeks before using.