Some options for your favorite breads, seafoods, sandwiches, and breakfast items! Partially taken from "The Ultimate Cooking Course", 2003.
1⁄2 cup unsalted butter, room temperature

Herb Butter

2 -4 tablespoons fresh herbs

Mustard Butter

1 tablespoon Dijon mustard

Citrus Butter

2 teaspoons orange juice or 2 teaspoons lime juice

Cilantro-Lime Butter

1 cup fresh cilantro, and

Garlic Butter

Almond Butter

1⁄4 cup finely ground almonds
Directions
Pick the butter of your choice (below). Add the additional ingredients and mix well.
Shape the 1/2 cup of butter, plus added-in ingredients, into small a roll.
Wrap well with waxed paper. Chill until firm.
Herb Butter:.
Add 2-4 tablespoons minced fresh herbs (such as parsley, tarragon, chives, mint, marjoram, etc.) either singly or in combos of 2-3. Add a squeeze of lemon and mix well with butter.
Mustard Butter:.
Add 1 tablespoon Dijon mustard and mix well with butter.
Citrus Butter:.
Add 2 teaspoons orange or lime juice, or 1 teaspoon lemon juice, PLUS the grated rind of 1 orange, lime (2, if small) or lemon. Mix well with butter.
Cilantro-Lime Butter:.
Add 1 cup loosely-packed minced fresh cilantro leaves to soft butter. Add grated rind and juice of 1 lime. Mix well.
Garlic Butter:.
Add 2 finely minced garlic cloves to butter; mix well.
Tomato Butter:.
Mix 1 tablespoon tomato paste with softened butter.
Honey Butter:.
Add 1/4 cup honey with softened butter; beat in gradually.
Maple Butter:.
Add 1/4 cup maple syrup to butter; beat in gradually.
Almond Butter:.
Add 1/4 cup finely ground almonds to butter; mix well.
Most Helpful
THANK YOU!!!!! I made garlic,parsley & chive I did up the amounts to 6 T of the herbs & I used 4 cloves of garlic as my cloves were smallish then I also added about 8 cloves of roasted garlic... I'll be using it soon in Recipe #275645 can't wait to make that again..& with the addition of this butter it will make a great recipe even faster can't wait to play making more of these wonderful butters.. thank you
I previously paid $4+ dollars for one of these at my local grocer for grilled steaks. I made my own with basil, garlic and chives--just as tasty and about 1/10th of the price since I also grow my own herbs. Great recipe and thanks for the variations.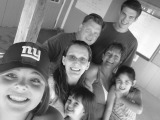 WhoKnew, Wow this was quick and easy...I grow some herbs in my work office (everyone else has pot plants!)and usually freeze them in tupperware pots of water. Infusing them with butter and freezing them is an ideal way to keep them AND has the added bonus that I can use for instance, the garlic butter in a recipe that uses both garlic and butter when I'm in a hurry, or out of fresh garlic. Becuase of this I changed one thing only: I increased the concentration of the herbs in the herb butter and the garlic...so about 6 Tablespoons of herbs and 8 cloves of garlic respectively, so that slicing a little off the roll will still give enough flavour in the dish that I am using it for. My one problem with your recipe is that it calls for "1 stick" and that's not a real measurement for me,since it doesn't tell me anything in "grams' or 'oz" so I guessed and used about 125g of butter in each of my flavoured rolls. The two butters I made are definiately the ones I will use the most, but the citrus butter also sounds appealing so Thanks for listing combinations that I wouldn't have thought of immediately. Please see my rating system, for ease of making, storage and use, and great flavours packed in a small packages, this recipe gets a wonderful 5 stars :) Thanks!