Flash Roasted Boccoli With Spicy Crumbs
marisk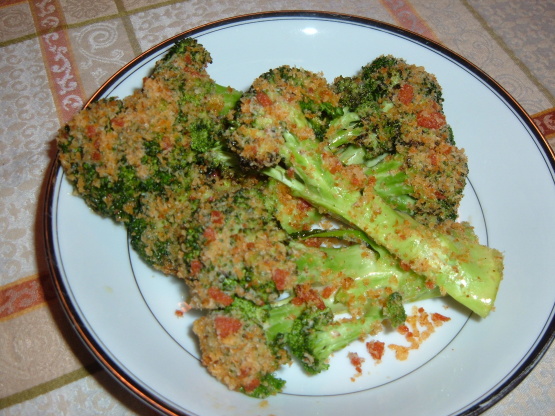 Another recipe being posted for safe keeping. This one is from the December 2012 Food and Wine Magazine.
Preheat oven to 425 degrees F.
In a mini food processor, pulse the pepperoni with the garlic until finely chopped. Add the panko and pulse just to combine.
In a medium skillet, heat 2 tablespoons of the olive oil. Add the crumb mixture and cook over moderate heat, stirring, until crisp and golden (about 5 minutes). Scrape onto a plate and let cool.
Meanwhile, in a bowl, toss the broccoli with the remaining 1/4 cup olive oil and season with salt. Spread the broccoli on a baking sheet and roast for about 15 minutes, turning oncem until tender and browned in spots. Spread the mustard on one side of the broccoli and press the broccoli into the crumbs. transfer the broccoli to a platter, sprinkle with any remaining crumbs and serve.