Flank Steak with Garlic Sauce
Pam-I-Am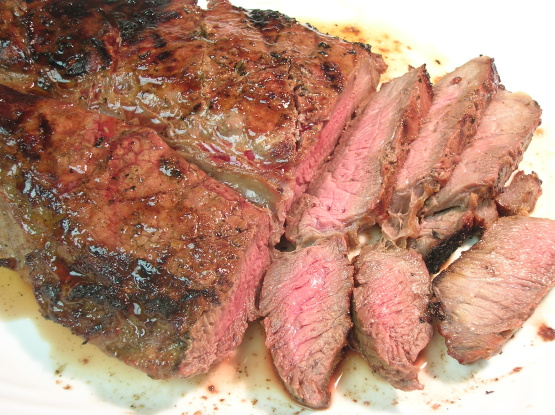 Another awsome flank steak recipe

I think this recipe has some potential to be a really good dish. However, there seems to be some errors within the recipe itself. For instance, in the list of ingredients, it calls for 2 3/4 teaspoons of sesame oil yet, in the directions, it instructs you to put 1 Tablespoon of sesame oil in the marinade. Additionally, in item #7 of the directions, it tells you to put the rice wine vinegar in the marinade and does not specify an amount. So the assumption was that you put all 5 teaspoons in the marinade. But then later, in item #9, it tells you to put the remaining rice wine vinegar in the sauce. Unfortunately, I did not catch either of these errors until it was too late. The end result was that the marinade had way too much sesame oil and rice wine vinegar. The sauce was OK but certainly did not have a garlic flavor at all. Perhaps with some adjustments to quantities and fixing the typo's, this could be a great recipe!
1 1⁄2 lbs flank steaks, trimmed
1 1⁄2 tablespoons fresh ginger, minced
1⁄2 cup soy sauce
2 3⁄4 teaspoons oriental sesame oil

5

teaspoons rice wine vinegar
1⁄2 teaspoon pepper

2

tablespoons parsley, minced
1 1⁄2 tablespoons water

2

teaspoons sugar

1

clove garlic, minced
Prepare grill or turn on broiler.
Using a sharp knife, cut 1/4 inch deep crosshatch pattern in steaks.
Place steak in a shallow nonreactive dish.
Combine ginger, 1-1/2 Tbs.
soy sauce, 2 tsp.
sesame oil, 1 Tbs.
rice wine vinegar and pepper in a bowl and pour over steak, rubbing into cuts.
Cover and marinate at least 45 minutes in refrigerator.
Combine remaining soy sauce, sesame oil and rice vinegar with parsley, water, sugar and garlic in a jar with a tight-fitting lid.
Shake vigorously and refrigerate until ready to use.
Grill or broil steak 4-5 minutes per side for medium-rare meat.
Cook longer if desired.
Let stand 10 minutes before cutting across the grain into thin slices.
Serve sauce over steak.