Flank Steak With Garlic Butter
teresas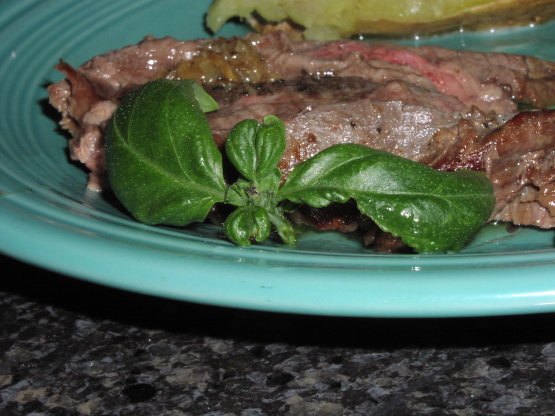 Four ingredients never tasted so good (not including oil, salt, and pepper.) You'll find yourself using the garlic sauce for just about anything - short of drinking it straight from the pan.

I used a tenderloin as that is all I had on hand. As I was making the sauce I decided to add some onions and fresh mushrooms. When the onions and mushrooms were tender I put them on top of the steak and then used the sauce for dipping. Easy to make and quite tasty.
Heat broiler.
Season steak with salt and pepper.
Broil steak about 6-inches from heating element, turning once, about 8 to 10 mintues, or until medium rare.
Sauce:.
In small saucepan over medium heat melt butter.
Add garlic, pepper, Worchestershire sauce and any accumulated steak juices.
Serve in slices made across the grain.