Flank Steak Stuffed With Blue Cheese, Spinach, and Bacon
IngridH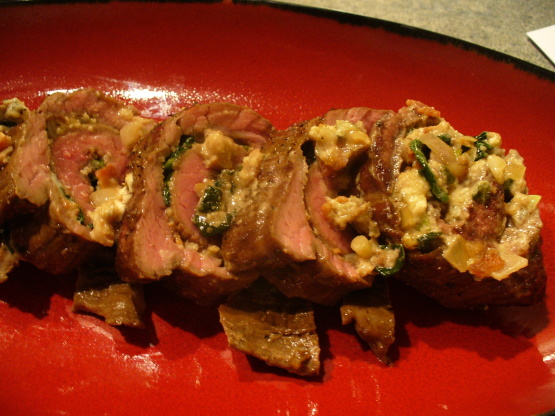 I love Blue Cheese....I love Steak....I love Bacon...this mixture is pretty good. Let me know what you think.
Absolutely delicious! My hubby doesn't like blue cheese quite like I do, so I'll try 1/4 cup next time. I'd also like to try it with diced mushrooms in the onion/garlic/spinach combo. Yum - can't wait till next time!
Mix together the marinade ingredients. Place in a resealable plastic bag with the steak. Marinate for 1-2 hours in refrigerator.
In a large skillet, cook bacon. Season with pepper for added flavor. Once crisp remove bacon but leave bacon fat in skillet.
Heat to medium and add onion and garlic. Cook for about 2 minutes. Add the beer and the spinach. Season with salt to taste and cook for 1-2 more minutes.
Add blue cheese, panko crumbs, and bacon to the mixture. Remove from heat and mix well.
Spread warm mixture into the middle of the flank steak, drained from the marinade. Roll and tie using kitchen twine. Place the steak roll in a roasting pan and season the outside again with salt and pepper to your liking.
Roast in a 350 degree oven until cooked to your liking.
Serve with a basic vegetable or mashed potatoes.
This is also great as a leftover in sandwiches with a fresh sourdough bread.