Flank Steak Churrasco With Chimichurri Rojo
teresas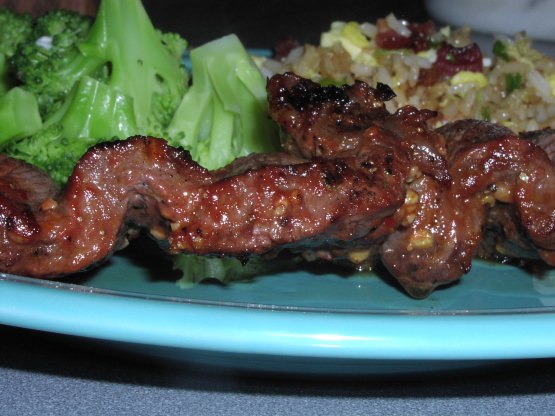 Churrasco is South American style skewers. I got this from Cuisine at Home Magazine. I haven't tried this yet, but sounded good!!

Top Review by mgw68
This was really good. The flavor was nice, I felt that it could have used a little something, but I left out the red pepper because I have a two year old and I didn't want it to get too spicy for her. We didn't cut and skewer so that we could make sure it was cooked the way we wanted it. This was my "one new recipe every week" for this week and it will now go into the regular rotation. We had it with Spanish Rice, Black Beans and Tortillas. It was equally good the next for lunch. Thanks for sharing.
Slice the steak against the grain at 45 degree angle into 1/4"-thick strips.
In a large bowl whisk together remaining ingredients.
Preheat grill to medium.
Toss meat slices into the chimichurri to coat.
Thread 4-5 strips (6 oz) onto each of 4 metal skewers. Fold each strip accordion-style, then spear through the center with the skewer. Spread strips down length of the skewer.
Grill skewers, covered, for 3 minutes. Turn, baste with remaining chimichurri, and grill, covered, for 3 more minutes.