packeyes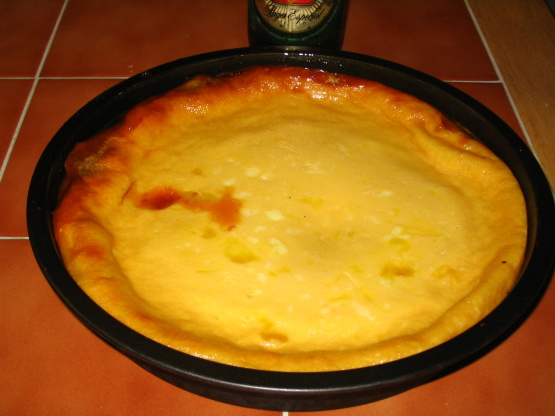 It is a normal flan that is easy to make.

This recipe turned out just like the flan we used to buy at a Mexican supermarket. I like that it has fewer eggs than other flan recipes because I don't like eggy-tasting desserts. Refrigerating it for 24 hours, or at least overnight, for some reason seems to get rid of the eggy taste as well. The only thing I did differently was add a little water before carmelizing the sugar (it evaporates out anyway). I might try putting it in a water bath next time to give it a smoother texture.
In a saucepan over meadium heat place the sugar and stir ocasionally during 8 minute or until caramel is a golden brown.
Then immediately pour caramel into a 9-inch round cake pan and even out the caramel quickly before it hardens. Set it asaide.
Preheat oven at 325 degrees.
In a bowl mix the sweetened codensed milk, the evaporated milk, the vanilla, and the eggs.
Place the mix in the cake pan and then in the oven and cook for abot 40-50 minutes or until inserted toothpick comes out clean.
Refrigerate for 24 hours.
Serve and enjoy:).