pammyowl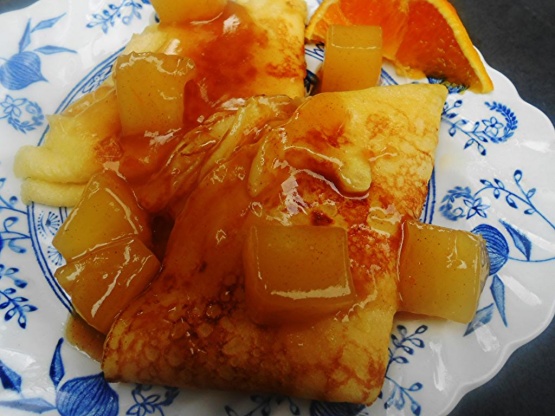 An absolutely spectacular dessert! Recipe found in an old cookbook called More Fun and Flavour With Spices. You can use the crepe recipe I'm including or use your own favourite recipe. The crepes can be made ahead of time and frozen. Simply reheat them in a slow oven (I would wrap them in foil to prevent hardening). The cooking time does not include the 1 hour stand time for the crepe batter.

Top Review by Hadice
I have never been the greatest crepe maker, but this recipe turns my plain old crepes into something really special! What a perfect dessert for guests or just the family. I halved the recipe and it made exactly 6 crepes with the perfect amount of sauce. I would be even more decadent with some fresh whipped cream. Oh! Yum! I'm so glad these came my way. Made for Sept Veggie Swap '11
CREPES:.
Mix all crepe ingredients together in a blender or mixer until smooth and allow batter to stand for 1 hour or longer.
Heat an 8-inch nonstick skillet, grease lightly and add 1/4 cup batter.
Tilt skillet to spread batter thinly in pan.
Brown lightly on both sides.
Fold in quarters. (Makes 12 crepes).
SAUCE:.
Combine 1/4 cup drained pineapple syrup, cornstarch, sugar, cinnamon, rind and butter in a hot chafing dish or saucepan.
Stir-cook until sauce is thickened and clear.
Add pineapple.
Place warm crepes around edge of hot chafing dish.
To flame, pour 3 tbsp warm brandy (heated in small saucepan) over sauce and ignite.
Serve immediately.