Nimz1466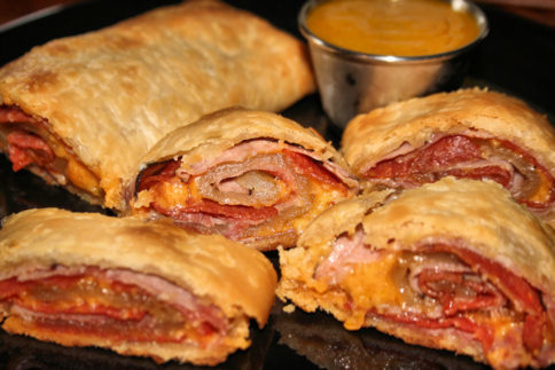 This recipe came from the Grand Rapids Press. We have a recipe section once a week and they always highlight a particular person w/a posted recipe. This is a hit w/my kids. Similar to a wrap only baked. Kinda like pizza too. Feel free to add/delete as needed as you can't mess it up.

Top Review by PamMal
I followed the recipe - it was okay. We didn't care for the pie crust but I will try pizza crust or even croissant dough next time.
Heat oven to 450 degrees.
Remove crusts from pouches: unfold crusts. Press out fold lines.
Sprinkle each crust with parmesan cheese.
Top each crust with ham, pepperoni and cheddar cheese to within 1 inch of edges.
Loosely roll up each crust.
Place rolls seam side down on ungreased cookie sheet. Fold ends under.
Bake at 450 degrees for 12-17 minutes or until golden brown. Cool 5 minutes.
Cut each roll into 16 slices.